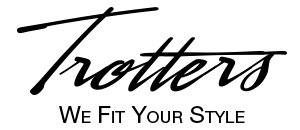 "From its very beginning in 1935, Trotters has been dedicated to creating high-quality women's footwear with appealing looks and exceptional comfort. Our first shoes were moccasins made by Native American craftspeople in Old Town, Maine, where we still maintain a distribution center. The unique comfort of Trotters begins with our careful choice of materials: the softest leathers, high-tech cushioning and flexible soles. And unlike many companies, we develop a separate last (the form around which the leather is shaped) for each size and width. So every pair feels like it was made just for you.

The Trotters name has always stood for the finest in quality, fit and style. All of our shoes are handcrafted using the finest leathers from around the world, with special detail given to quality and softness.

We are committed to providing you with a wide range of sizes and widths in order to ensure the finest fitting shoes that you can buy. We think you will agree that your Trotters shoes feel and look like they were made especially for you."